Vendors are your creditors from whom you have bought goods or services. You can perform the following actions for them:
Add a vendor
Remove / Edit a vendor
Record transactions
Send Email/SMS to them
Filter Information
The Vendor Page
The vendor page (All Modules > Vendor) shows the following information about all your registered vendors:
Opening and closing balances

Purchases

Contact information

Bank account details

Tax information, etc.
From the Vendor page, you can
Add new vendors

Manage the existing ones

Send them reminders via SMS and email.

Filter vendors by date

Search for them

Customize the view (hide / display columns)

Sort data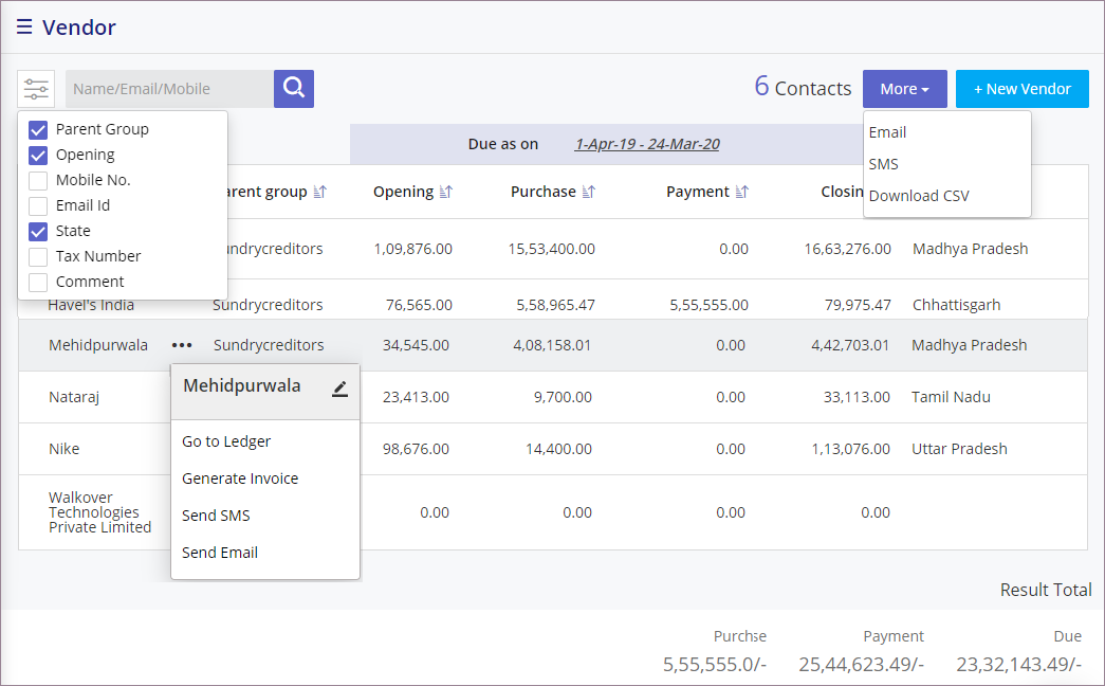 Filter by date
Selecting a date range filters the information in the table according to the chosen range:
Click on the date range option (given at the top of the table).

A dropdown with date range options appears on screen.

These options include date range for a month, quarter, year and so on.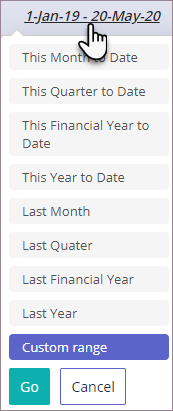 To define a custom date range, click on the Custom Range option.

A calendar appears on screen. Select the start date and the end date for viewing the data. The older date will be the start date.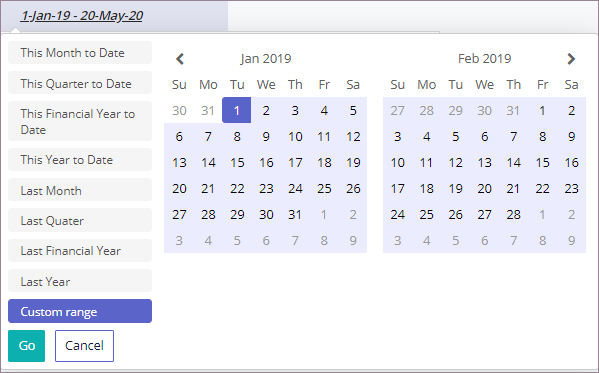 ​

Search For vendors
You can search for the vendors by their
Name

Email address

Mobile number
Simply enter the details and click on the magnifier icon (or press enter on the keyboard).

The results are displayed on the page and you can perform all the basic operations (select, send email and sms, etc.).
Sort Data
Some of the columns come with the option of arranging the data in the grid in ascending or descending order..
Up Arrow Key: Arranges data in ascending order (oldest to latest for dates, smaller to greater for numbers).
Down Arrow Key: Arranges data in descending order. (latest to oldest for dates, Greater to smaller for numbers).
Enable / Disable information
You can hide or display columns in the table as per your requirement. Follow these steps:
Click on the Enable / Disable icon at the top left corner of the grid.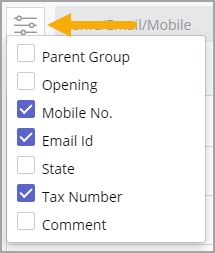 Now select the checkbox for a column name by clicking in it. A tick mark represents that the column name has been selected. The selected column will appear in the grid. You can deselect a column by clicking in it again.

The changes take effect in the table immediately.