The dashboard gives a clear picture of your company's finances and allows you to make informed decisions. You can view / explore information for the following:
Total Overdues

Profit and loss

GST

Weekly statistics

Ratio Analysis

Bank Accounts

Top 5 / 10
Go to Dashboard
All Modules, select Dashboard (or press Ctrl/ Cmd + G, and search for it).
Let us have a look at the various sections In the Dashboard.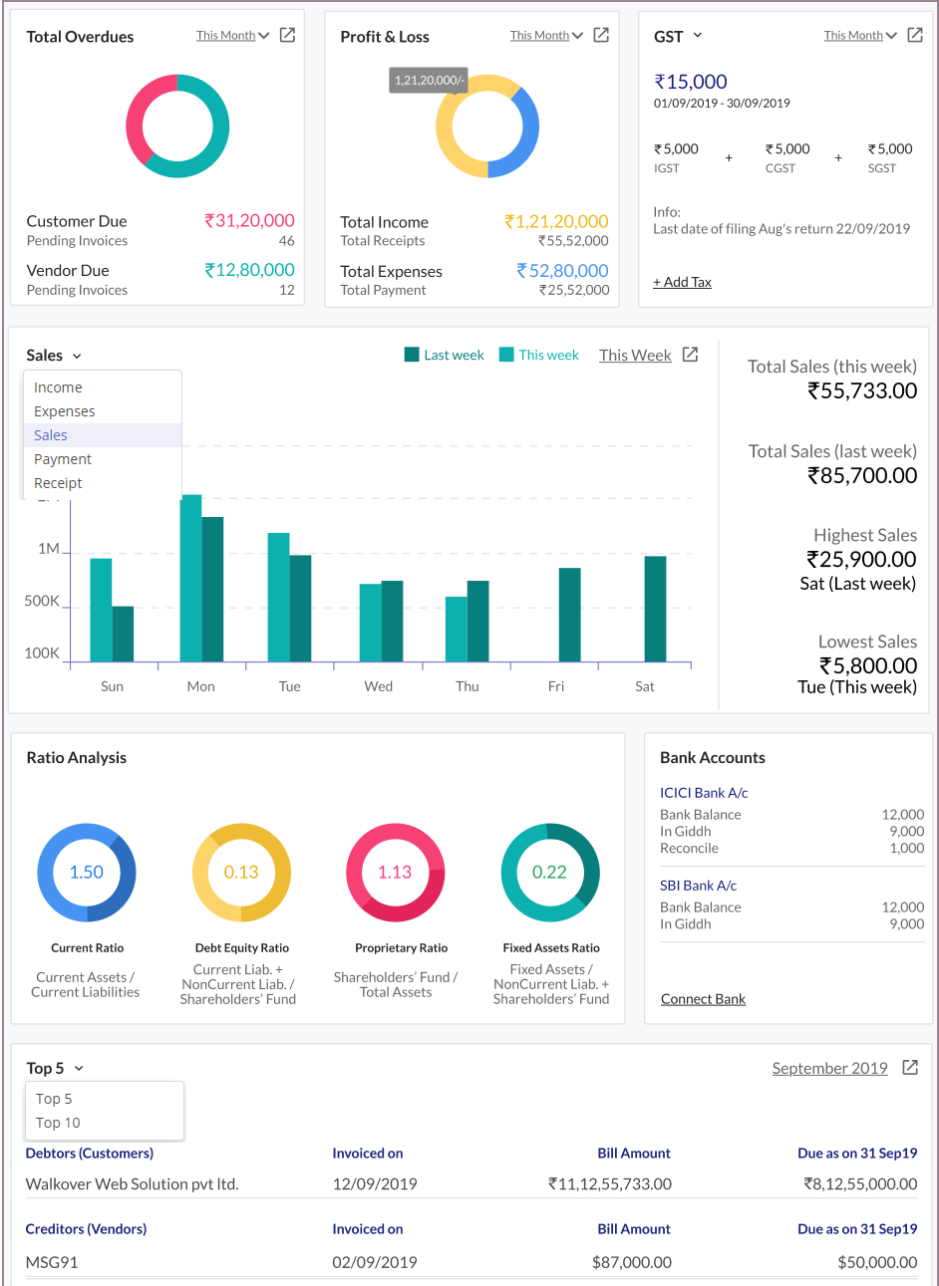 Total Overdues
It gives insight into what your customers owe to you (i.e. total receivable) and what you owe to your vendors (i.e. total payable).
Customer Due - The total amount you're yet to receive from all the customers and the total number of pending invoices is shown here.

Vendor Due - The amount you're yet to pay for purchase transactions and the total number of pending bills to pay.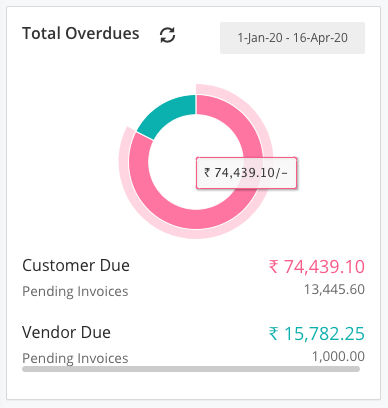 To customize the total overdue period, you can click the date next to the refresh button, and select the desired date range.
Profit and loss
Company's monthly cumulative expenses, revenue and profit & loss data is shown in this section.The Profit & Loss graph is generated based on the report of your organization total income & expenses.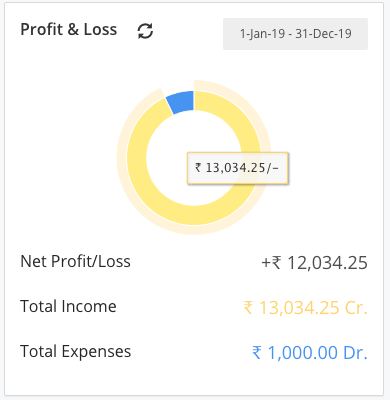 Net Profit/Loss: It is the net profit or loss of the company. A negative value indicates losses.

Total Income: It is the total income earned through your sales transactions.

Total Expenses: It is the total expenditure recorded in the company's purchase and expense transactions.
You can customize the profit & loss graph based on the current financial year, this financial year, this year to date & customize date filter.
GST
Details of accumulated taxes and last date of filing them is shown in this section.
You can:
Filter information by the dropdown options.

View full screen.

Add taxes.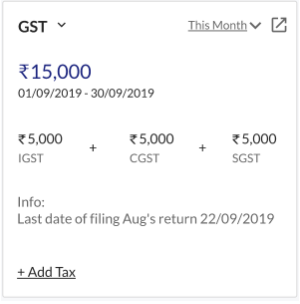 Weekly statistics
This section shows comparative data for Income, Expenses, Sales, Payments and Receipt of current and previous week. Also visible are total, highest and lowest figures of the current and past week.
You can:
See details for Income, expenses, Sales, Payment and Receipts by choosing any of them from the dropdown at the top left.

View information for current or past week.

Expand the view.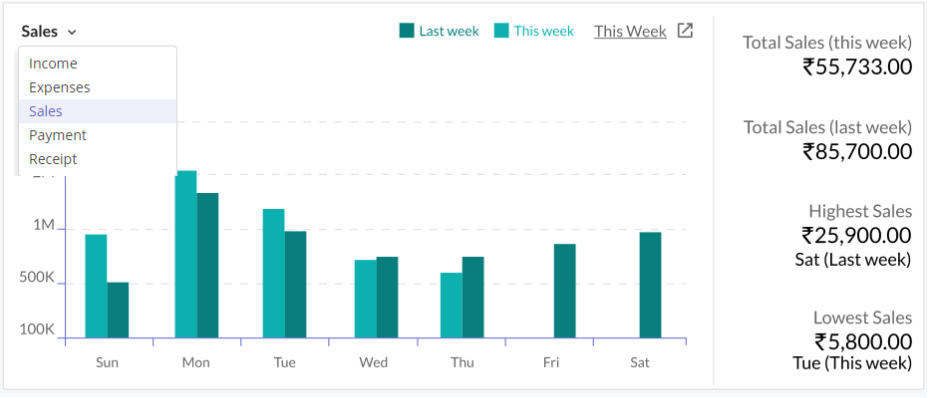 Ratio Analysis
Ratio Analysis gives a quick insight into a firm's financial performance in several key areas.
Current Ratio: It is a liquidity ratio that measures a company's ability to pay short-term obligations or those due within one year. A good current ratio is between 1.2 to 2.

Debt Equity Ratio: It is used to evaluate a company's financial leverage. The maximum acceptable is 1.5 - 2 or less.

Proprietary Ratio: It shows the contribution of stockholders' in total capital of the company. A high proprietary ratio indicates a strong financial position of the company.

Fixed Assets Ratio: It shows the amount of fixed assets being financed by each unit of long-term funds. It varies by industries.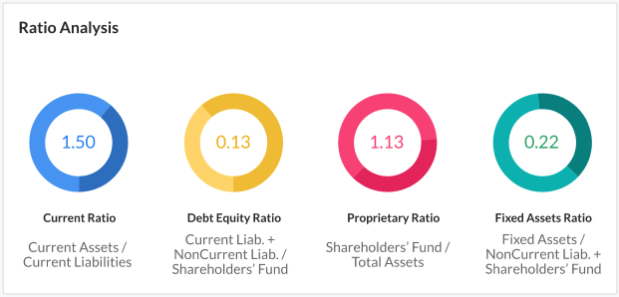 Bank Accounts
The Bank Account section displays the closing balances of all your linked bank accounts with Giddh.
You can:
Connect bank: clicking on this option takes you to the Linked Account section (under Settings). From there you can link accounts.

View closing balances.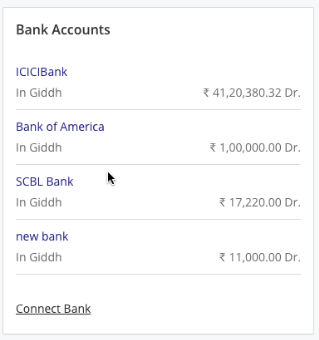 Top 5 / 10
Invoice / Bill amounts and due amount of the top debtors and creditors.
You can:
Switch between top 5 and top 10 data.

View in expanded screen.

Define date range to filter the information according to that period.