Go to All Modules and click on the Vendor link. You will be taken to the Vendor page.

Select the required vendors from the table by hovering cursor over them and selecting their respective checkboxes. (You can search for or filter them to select them.)

Three options appear on screen – Email, SMS and Download CSV; click on any of them.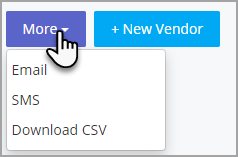 Download CSV: Choosing this option downloads the CSV (comma-separated value) file to your computer. The downloaded file contains details about the names of the vendors, their opening and closing balances, transaction types, unique names, and parent groups.