Once you have chosen a plan and added a company to your login on Giddh, you will be taken to the Home page as shown below. You can start creating invoices right away.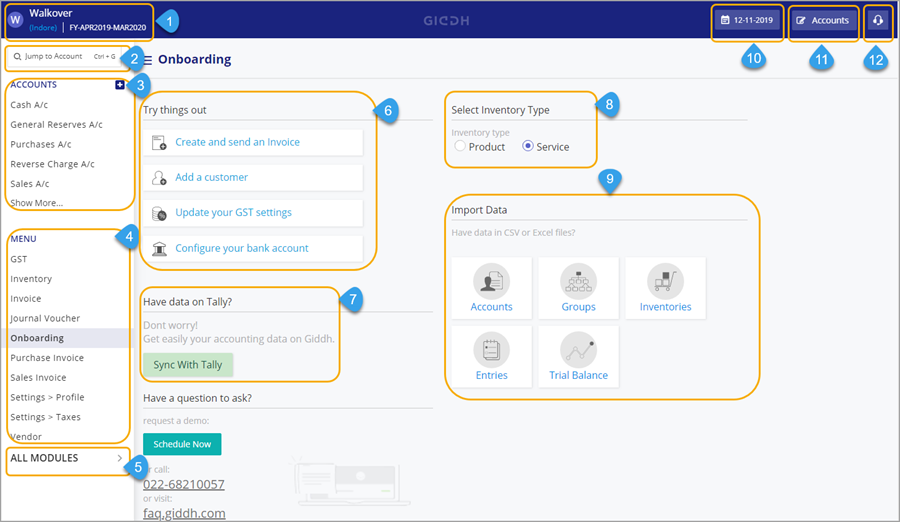 Company Name and Details
The name of the company that you are currently using for accounting is displayed here. You can create multiple companies with a single sign in. To access the details of and make changes to the accounting details of multiple companies at the same time, open them in different windows or tabs in the browser. Clicking on the name or image of the company opens a dropdown menu which has the following options: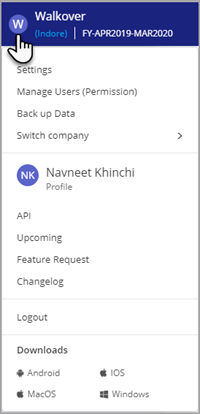 Settings: This option allows you to manage a lot of crucial information and features related to accounting and your profile. You can create and update taxes, set and manage financial years, integrate bank accounts, manage your linked accounts, update your profile, manage permissions of users, add and manage branches, and create and manage tags, triggers and discounts.
Manage Users (Permission): Securely assign permission to users to access the accounting information. By securely, we mean you can use the CIDR Range option or IP Address option to limit access to the information according to a network or a set of devices. There are three types of permissions that can be assigned viz., Super Admin (full control), Admin (Company level), and Visitor (view only). You can give permission for a period of time by setting a date range as well.
Back Up Data: Export data stored on Giddh to your desktop. It is in JSON format.
Switch Company: You can move between companies to access or edit their information by using the Switch Company option. Also, create new companies from here.
Profile: It shows the software key (Authorization Key) assigned to you by Giddh, your mobile number, session details, plan status, and payment options, and allows you to manage (edit, delete and create) your companies. You can also step up security by enabling the two-way authentication mode for logging in to the portal.
API: It takes you to the page which displays the software key (Authorization Key) assigned to you by Giddh.
Upcoming: This is a list of the planned or under-review enhancements and features. These are generally being worked upon by the Giddh team and you will see them on the portal down the line.
Feature Request: The users can request for a new feature or enhancement by submitting the details here.
Changelog: This is a list of changes and updates made to Giddh since inception.
Logout: Clicking on this button will sign you out of the portal. To use the portal again, you will have to log in again.
Downloads: On mobile devices, using the mobile app of Giddh gives you faster response and access to all the features. Download the respective app and install it on your mobile phone.
Jump to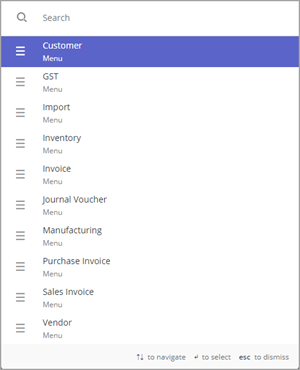 When you either click in the Jump to Account box () or press Control plus g for Windows / Command plus g for Mac, a popup window as shown below appears on the screen.
It contains a search field at the top and a list of 10 recently searched items displayed under the search field in their alphabetical order.
Use the search field to look for a feature or module. Simply enter a few characters matching the name of the feature or module and the matching options populate in the list. Click on any of them to go to their respective pages.
If you search for something and it is not found in the database, an option to create a group or account by that name appears on the screen. You can pursue the action by clicking on either of the options.
Accounts
Clicking on the plus icon (+) takes you to the Manage Groups and Accounts section. From there, you can create accounts under groups.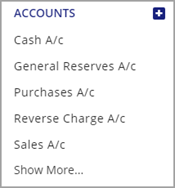 A list of recently visited accounts is also displayed. If you are a new user, you still see a list of accounts that comes predefined on the portal. These accounts are commonly used by most of the organizations for accounting purposes. You can create new accounts from the Manage Groups and Accounts section and access them from here.
The Show More button opens a pop-up window like the one that opens from the Jump To search box. From the popup window, you can search for an account by typing its name.
You can merge two accounts (for example, if you sell two different products to a customer via two accounts, you can merge them together)
Recently Visited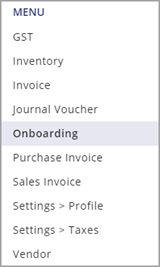 When you log in to the portal for the first time, a list of 10 preselected features is displayed here. However, as you use the portal, this list starts displaying 10 recently visited features. This gives you one-click access to the recently visited pages.
All Modules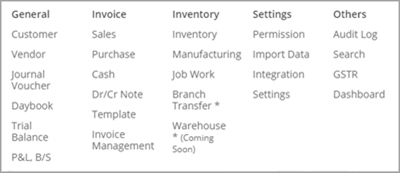 The All Modules section contains all the options related to the accounting of a company. It contains options for accessing and managing customers and vendors, creating and managing invoices and managing inventory, settings of the account and taxes.
Getting Started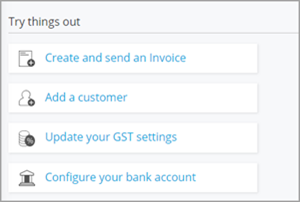 This section helps you get started with the accounting software. These are the activities that will set you up for using the portal.
Clicking on any of the options in this section takes you to the respective page where you can perform that activity. For example, if you click on 'Add a customer' link, you will be taken to the page where you can add a customer to the accounting information.
Visit each of the pages mentioned here and see how fast you get friendly with Giddh.
Sync With Tally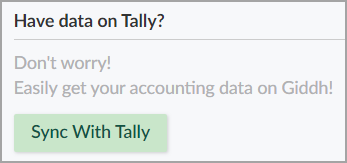 If you are one of those businesses that use Tally for their accounting, you can easily move your data to Giddh.
Simply download the .tpc file and configure it with Tally. Your data will be moved to Giddh in a few simple steps.
Select Inventory Type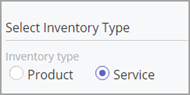 By selecting an inventory type, you define the type of items you will stock. The choice you make here is reflected in the HSN or SAC code that is applied to the inventory. As of now, you can pick one of the options.
If you choose Product, you will get an option for HSN code field when you add stock in inventory. If you choose Service, you will get an option for SAC code field when you add stock in inventory.
Do keep in mind that if you choose inventory type as Service, it will not be included in as assets in financial reports.
Import Data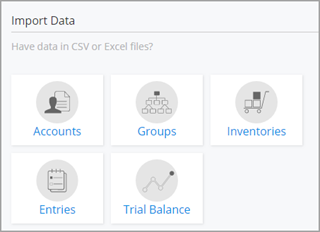 If you use MS Excel files to manage your accounting, moving your data to Giddh will be a breeze. Simply import those files in the required format to Giddh.
To know the format, download a sample file to your computer, adjust your accounting information in that format, and simply import it. To know more, click on any of the links given for importing Accounts, Groups, Inventories, Entries or Trial Balance.
Date Range
This feature allows you to set a date for viewing reports and other details on the portal. The information on the portal will show according to this date until you change the date range. By default, it is set to the current date.
When you click on the current date, a date range shows in its place. Click it again, and a dropdown with date range options appears on screen. These options include date range options for a month, quarter, year and so on. You can even define a custom date range. If you choose the Custom Range option, a calendar appears on screen. Select the start date and the end date from the calendar for viewing the data. The older date that you pick in the calendar will be considered the start date by the software.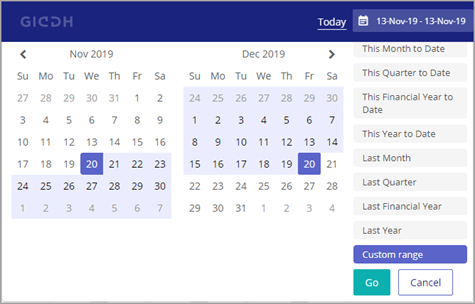 Manage Groups & Accounts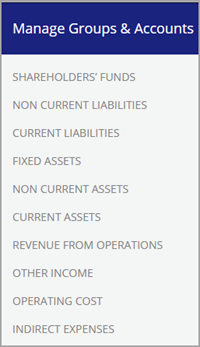 By using this option, you can manage your expenses including operating costs, keep track of current assets and liabilities, manage your shareholders' funds and so on. For standard accounting purposes, Giddh provides you the classification of accounting information under groups and accounts.
Your Giddh login comes with 10 pre-created groups which in turn have several sub-groups and accounts under them. You can create more sub-groups and accounts as necessary. You cannot make changes to the predefined groups, sub-groups or accounts.
Sub-groups can contain further sub-groups. However, each account or sub-group must be defined under any of the 10 default groups.

Support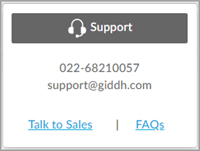 When you click on the Support icon (), a small popup window appears on the screen. From there, you can call the support team by clicking on the phone number or send them your queries at the given email address. To schedule a demo, click on the Talk to Sales link and choose a time as per your convenience.
To see the frequently asked questions (FAQs), click on the FAQ links. This will take you to the FAQ site of Giddh. It opens in a new tab.