Giddh gives you the flexibility of adapting the invoice templates according to your company theme and style.
Create, customize and manage design and content of invoices and all other vouchers.

Add a logo, name, address, GSTIN details and other details on the invoice.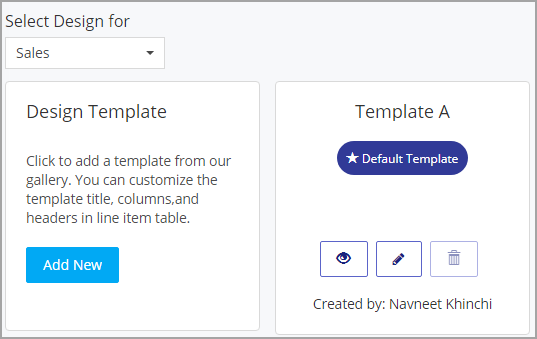 Go to Invoice Templates
All Modules > Invoice Management > Templates
All the existing templates appear in this section. You can view, edit, and delete them from here.
Set as default
Click on the 'Set as default' button given on a template to make it a default template. This way, whenever you create an invoice or a voucher, the respective template will open on screen.
Create a template (Add New)
Select the voucher type from Select Design For. You can choose between the following options:
Sales,

Debit/Credit Note.
Now, click on the Add New button.

A window containing options for Design and Content show on screen. The changes you make in either of the options are visible on the right-hand side.

Give a name to the template in the My Template Name field.

Finally, click Save.
Edit a template
You can edit a template by editing either its content or its design.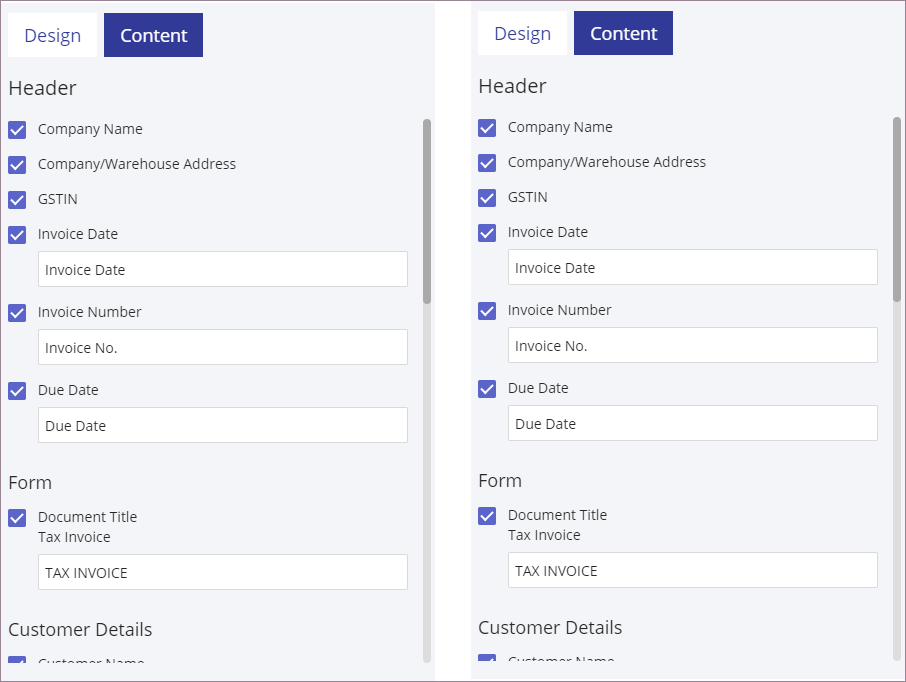 On the Template page, click on the pencil icon on a template,



Now, choose either Design or Edit to make the changes.

Design
Click on the Design tab. The following options appear on screen:
Change Template: Choose a layout and theme for the template. You choose from the options.
Make Logo Edit: Add a logo to the template by uploading it from your computer. You can also adjust its size. 'S' for small, 'M' for medium and 'L' for large.
Try Other Color: Choose a color that best defines your brand's look and feel. You can pick a color from the palette.
Select Different Fonts: Choose fonts for the content in the template by picking from the options..
Select Different Font Size: Choose font size by entering a value in the box or picking from the options.
Edit Print Setting: Adjust margins (top, left, bottom, right) for making the template print-ready. A Reset button is also given. Clicking on it restores the font size to the default settings.
Save: The changes made by you will be stored only if you save this information by clicking on the Save button.
Click on the Content tab and do the following: select/deselect a checkbox to hide/show its information.
Select a checkbox to show its data in the template.

Deselect a checkbox to hide its data in the template.
You can make changes to the following:
Header

Form

Customer Details

Billing Details

Shipping Details

Transport Details

Custom Field

.
Finally, click on the Update Invoice button to save the changes.
A confirmation message is displayed on screen.