You can do the following from here:
Add or edit the mobile number connected to your Giddh account,

Allow users to get automated SMS responses to queries (using long code)

Create another layer of security (two-way authentication) for your account.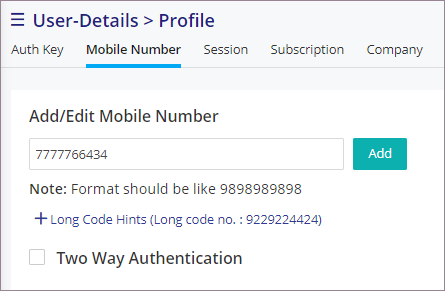 Add / Edit mobile number
Link only one mobile number to your Giddh account. Here are the steps to add or edit a mobile number:
Enter the phone number in the Add/Edit Mobile Number box and click on the Add button.

A verification code is sent on the entered mobile number.

Enter that code in the verification box in Giddh and click on the Verify button.

A success message is displayed on screen.
The number has been updated.
Long code
It is used to receive text information about an account. When the user sends a message in the prescribed format to the given long code number, the requested information is messaged to them. Your clients and customers can use this code to get automated responses.
Two Way Authentication
Using this feature, you can connect a mobile number to verify access to your Giddh account. Whenever you log in to your Giddh account, an OTP (One Time Password) is sent to the registered mobile number seeking approval. You must approve it from the mobile device to continue with the login process.
To enable this feature:
Select the Two-Way Authentication checkbox on the User Profile page.

A confirmation message is displayed on screen.