You can configure several third-party applications with Giddh to send emails and messages, receive and make payments, and to sell products or services online.
Here is what you can configure:
SMS

Email

Collection (payment gateways)

E-Comm (e-commerce platforms for selling products/services)

Payments (bank accounts)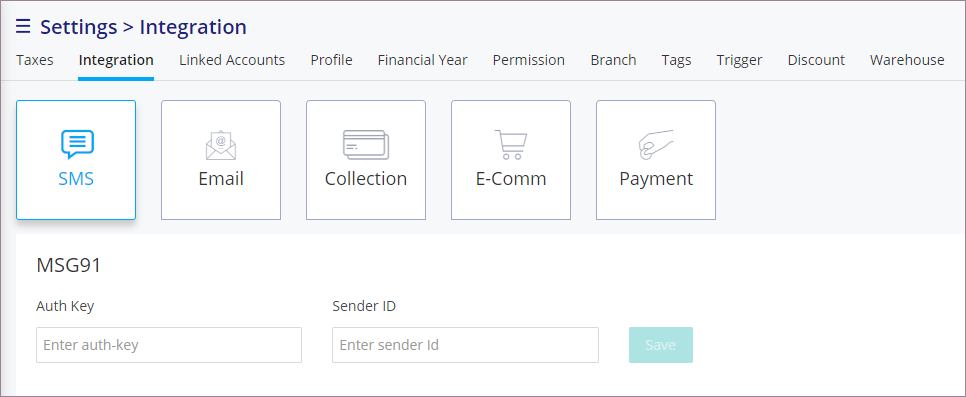 SMS
You can send messages (SMS) to individual customers or many of them in bulk. You must configure a messaging app for this.
These can be about reminding them of clearing pending invoices or alerting a vendor when you place an order.
Configure a messaging app:
Go to MSG91 site and register with them.

Get SMS credits from there; you will get Auth Key and Sender ID as well from there.

Enter the key and sender id from MSG 91 in the SMS section on Giddh.

Click Save.
You will get a confirmation message on the portal.
Now you can send messages to your customers and vendors from Giddh.
Email
Emails are used to send reminders, alerts, and updates from Giddh to customers and vendors. You can send emails from desired email addresses. As of now, you can configure either or both of Gmail and SendGrid services.
Gmail
There are two steps to set Gmail as your default sender.
Connect Gmail by clicking on the Connect with Gmail option in the Settings > Integration > Email section and follow the ensuing steps.

Now go to the Invoice section (from Jump To or from All Module) and then select Settings. In the From Email field, enter the desired email address and verify it. Also, do select the Send email through Gmail checkbox.
Note: From step 2, you can vary your sender id as often as you want.
SendGrid
Go to SendGrid website and register yourself there.

Get the API Key from SendGrid.

Enter this key in the Authorization key field of SendGrid section on Giddh.

Click on Save.
Collection
To receive payments, you can configure payment gateways from this section. You must first register with the respective Payment Gateways and then link them with accounts in Giddh.
For example, to register RazorPay with Giddh:
Go to the RazorPay website and register with them.

Get the Key Id and Secret; enter these on Giddh in the RazorPay Details section.

In the Link Account field, choose a bank account, RazorPay or any other payment gateway account.

If you want this transaction to be automatically updated in the Bank Account ledger, select the checkbox for Automatic Capture on Payment.
Similarly, you can register with other payment gateways and link them accounts in Giddh.
E-comm
Directly connect sales orders received from Amazon, Shopify, and other e-commerce platforms into your Giddh interface.
Payment
Connect a bank account with Giddh for making payments to your vendors and dealers. As of now, we support the ICICI bank. Simply enter the details about the bank account and get going. For other banks, get in touch with us and we will offer you a solution.