The Settings section gives you control over your profile and accounting information on Giddh and allows you to customize and manage them.
You can do the following from the Settings module:
Taxes: create, edit and delete taxes.

Integration: configure apps for gateways, banking, sending emails and messages, and e-commerce.

Linked Accounts: link CCAvenue and RazorPay for receiving payments.

Profile: update your company information, enable multi-currency transactions.

Financial Year: add, lock and unlock financial years.

Permission: assign permission to users.

Branch: create and delete branches.

Tags: create, edit and delete tags (these are attached to entries).

Trigger: create, edit, and delete triggers.

Discount: create, edit and delete discounts.

Warehouse: view and edit warehouse details; create new ones.
Go to Settings
Click on the Giddh logo or your company's initials (name) given at the top left corner..

Click on Settings.

The Settings section opens on screen.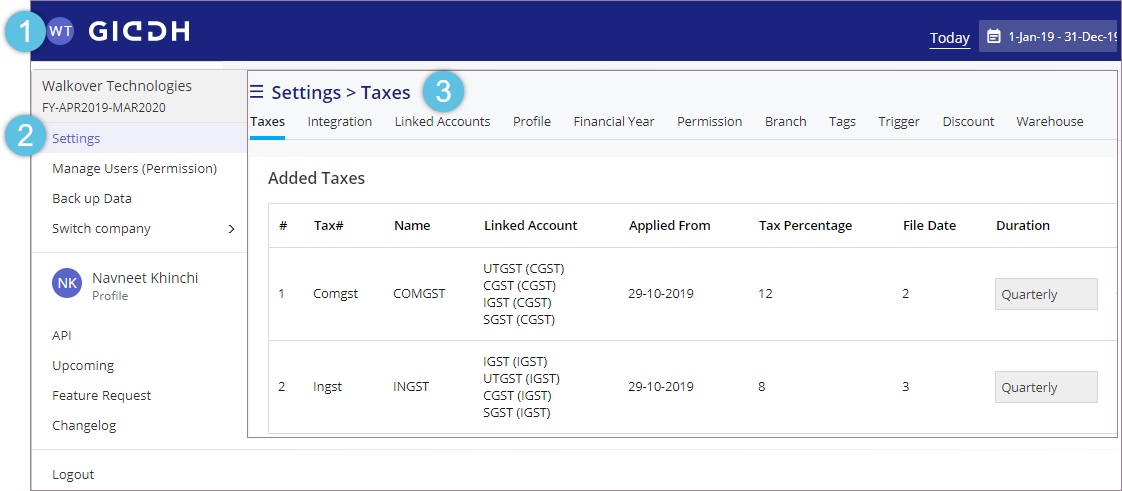 More ways to go to Settings:
Click on All Modules and select Settings.

Or, press Ctrl+G (Cmmnd+G for Mac) and search for Settings.